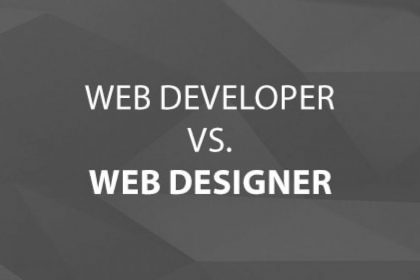 Is there a difference between Web Design and Web Development?  Frequently, both terms describe the process of building a website, so are they the same?  It is not the same thing, while web designing is all about the visual side of the website such as the way it looks and the user experience of your website,  website development is the process of making the site a fully functional one with all the necessary that goes on at the back end.
Being able to have both on a team would be hugely beneficial as both can see projects through from beginning to end and the problems like miscommunication or differing ideas can be minimized drastically.

Some of the most highly acclaimed web developers also excel at web designing. In the near future, it is expected that these two roles will merge into one. The candidates who have both technical and creative skills will have huge job opportunities over the ones who don't.
Since web development software is rapidly evolving, anyone can easily construct a website without the need for coding today. The need for a coder to build a website from scratch is becoming less common.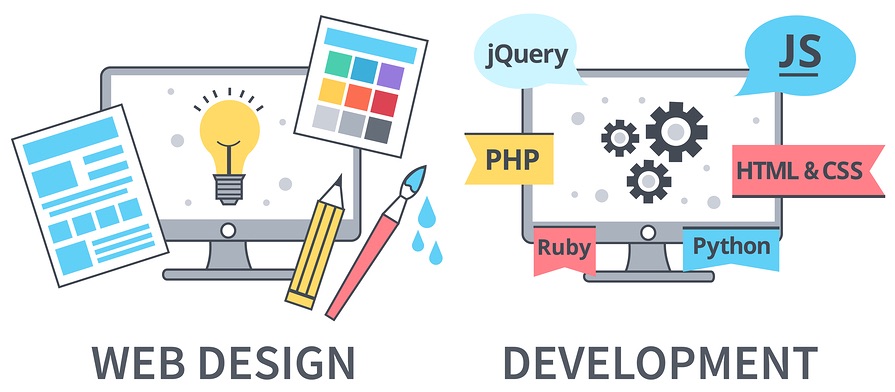 Web Design
As the name indicates, 'Web Design' deals with how a website looks and how it works and feels from the point of view of its users. A web designer turns a client's ideas and concepts into a website with the help of tools like graphic designing software. The team makes use of design tools, such as 'Adobe XD' to create aesthetically pleasing and easy to navigate websites, resulting in a positive user experience (UX). Those designs are then forwarded to developers for integrating them into the back end.
An effective UX design refers to creating a website that is easy to navigate, intuitive, and enjoyable to use. The whole idea is to deliver users a pleasant experience on your website, and ensure they find your content is useful.
The process of website design involves UX designers and visual/graphic designers working together to develop wireframes, mock-ups, graphical elements, colour palettes, templates, and more in order to assist developers in building the website. In addition to keeping updated with the latest web design trends, they also need to be able to interact with customers effectively.
The most important qualities for a web designer are creativity and attention to detail. Besides taking care of the visual aspects of a website, depending on the scope, they may provide Facebook marketing, content and updates, maintenance and monitoring services, and performance assessments.
Web Development
A Website can function properly only when a Website developer takes the design and writes the code to meet the feature requirements. These codes are usually written in languages like CSS, Javascript, HTML or Python.  The development of a website can also involve using a content management system (CMS) like WordPress or Magento. A CMS is a program that helps users to create and update their website's content easily, which also allows clients to maintain their websites with less effort.
Additionally, a web developer needs to have certain non-technical skills. Specifically, this includes the ability to solve problems and apply analytical thinking, which is essential for debugging. As part of collaborating with clients and other team members, good communication skills are important as well as the ability to work under pressure to meet deadlines.

Types of Web Developers
There are two main types of website developers: front-end developers and back-end developers. Developers who are proficient in both front-end development and back-end development are known as full-stack developers.
Front-End Developers
It is the front-end developer who is responsible for the aesthetics of a website, which involves coding and programming. To achieve a site's desired look and feel, front-end developers, work closely with web designers and clients.
Back-End Developers
Back-end development refers to the tasks involved in the development of the website's functionality. In addition, the server hosting the website must be maintained and any security issues must be addressed.
Full-stack developers


A full-stack developer is responsible for coding the front and back ends of a website. An understanding of all the elements of a website and how they work together is essential for them. Full-stack Web developers use front-end languages like HTML, JavaScript, and back-end programming languages for coding web pages. They are also responsible for all the works behind the scenes, covering the entire development cycle of a website.
It takes a lot of technical knowledge to become a full-stack web developer. A full-stack web developer must have the ability to write coding languages such as HTML, CSS, JavaScript, and PHP.  In addition, they should have an understanding of CMSs such as WordPress & Prestashop, different back-end components, and databases. They need to be experienced in testing and debugging and depending upon the job role, they may also need to understand the basics of Digital marketing practices like LinkedIn Marketing and search engine optimization (SEO).
No-code movement: What is it?
Efforts to make it possible for people with no programming experience to do things that normally require coding skills are called the no-code movement. Drag and drop Website builders are an example of the No-code tools generally used to create websites and apps. Using No-code tools is incredibly easy and time-saving because all of the codings are performed in the background, so users don't need to learn anything about coding.
No-code tools benefit those who do not have coding skills but wish to create online marketplaces and websites. While website builders like Wix, Weebly and Squarespace have been around for many years, they do not allow true customization, which always requires the assistance of an experienced web developer. Webflow, on the other hand, includes a completely coding-free way to create highly customized websites and apps.
Does it mean web designers and developers expect to see the end of their profession? Not at all. It is clear that no-code tools are in high demand, but still, there will be people who have a lack of time or technical knowledge; they will want to outsource the development process of websites.
Security concerns have been raised about no-code tools as opposed to custom-built, self-hosted websites. It also requires technical expertise to carry out maintenance tasks and fix bugs. Anyone quite talented can design a decent website using No-code tools, but what happens if the website goes down with some errors?  Matrix Building Roof Waterproofing LLC, a contractor for roof waterproofing based in UAE, initially built their website in-house using a famous No-code tool, but security concerns and maintenance issues have caused them to outsource Cube Interactive, a web development company for the maintenance and for the managed web hosting solutions.
Outsourcing a professional web developer with SEO capabilities from the start can also be beneficial than building a Website using No-code tools.  An experienced web developer can foresee the marketing needs of a website and work according to industry standards to comply with search engine visibility.  It is likely that large, complex projects will still require the services of web designers and developers.
Cube Interactive, web development and SEO company's marketing consultants say, "despite the popularity of many DIY website builders, We still see a high level of demand for our services. It is difficult for people to build their own websites that are highly professional with DIY No-code tools, and they desperately need a website that is fully customized and has extensive functionalities".
The skills of web design and development remain in high demand for the time being, however, who knows what will happen in the future.
Cheap Digital Marketing Packages | Affordable Social Media Marketing Packages | LinkedIn Marketing Packages | Cheap SEO Packages | Affordable Website Design Packages