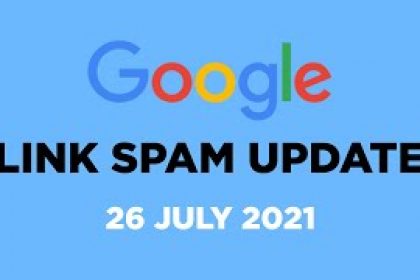 The "link spam update" makes Google's algorithms more adept at detecting and nullifying spam links.
This update will be rolled out over the next few days and will take at least two weeks to appear widely in all search results, regardless of language.
Some site owners are about to see changes in their rankings, according to Google:
"In our continued efforts to improve the quality of the search results, we're launching a new link spam-fighting change today — which we call the "link spam update… Sites taking part in link spam will see changes in Search as those links are re-assessed by our algorithms."
In Google's announcement, it is stated that sponsored, guest, and affiliate content are targeted more aggressively.
A casual reminder is made in the announcement to mark up affiliate content with the proper 'rel' values. It is only after the end of the blog post that Google discloses the news about this algorithm update.
It is clear that Google wants webmasters to carefully consider its advice on how to treat links within content in situations where there is an exchange of value.
This algorithm update seems particularly relevant to Google's guidance, so let's learn how to follow the guidelines.

Link Tag Best Practices According To Google
When linking out to other sites, Google reminds site owners to qualify their links. Appropriate tags are required for links that correspond to a value exchange between two domains. Links from sponsored content and affiliate links are specifically targeted by Google.
Below are the recommendation based on the type of link:
Affiliate links

: Google requires affiliate program sites to mark their links with rel='sponsored', regardless of whether they were manually created or generated automatically.

Links from sponsored posts

: Advertorial or paid links (also referred to as sponsored links) must be marked with a rel="sponsored" attribute.

Links from guest posts:  Make sure to use rel="nofollow" when providing links from guest posts.

As an added measure, Google will take manual action against sites that fail to qualify links appropriately.
Source: Google Search Central